The Breville BES870XL Barista Express Espresso Machine is an ideal gift for people who love authentic espresso.
Read Our 
Breville BES870XL Barista Express Espresso Machine 

Review Before You Make Your Next Coffee Drink
Company:
Breville via Amazon.com.  They're known worldwide for making a broad range of kitchen products.
Price Range:
$590 to $600.00.
Who would you Buy This Gift For?
People who are a newbie or amateur Baristas and demand a great cup of espresso. Those are ideal candidates to receive this gift.
Breville BES870XL Barista Express Espresso Machine
Let me confess; I've been hooked on espresso ever since I took a trip to Europe as a teenager.  I experienced the world's best espresso daily.  After awhile I couldn't go a day without some. That's why I need my heavy duty espresso machine.  Taste is the criteria that most concerns me. If the espresso machine doesn't create a fantastic brew, you don't need it.
The Breville BES870XL Barista Express Espresso Machine takes you from espresso bean to thick cream in around two minutes.  You won't spend all day waiting for your next cream.  Even more exciting for me, this unit comes with an attached swivel milk frother that makes lattes and cappuccinos. I'm a big fan of lattes and cappuccinos.  I found the taste to be extremely pleasant for both.
Pros:
Makes great tasting espresso, lattes, and cappuccinos.
The machine is high-quality.
It's easy to clean.
It's rugged.  At thirty pounds, it's made to be durable.
It's has a great design.  I would describe it as beautiful.  You'll end up extremely proud to have one of these in your kitchen.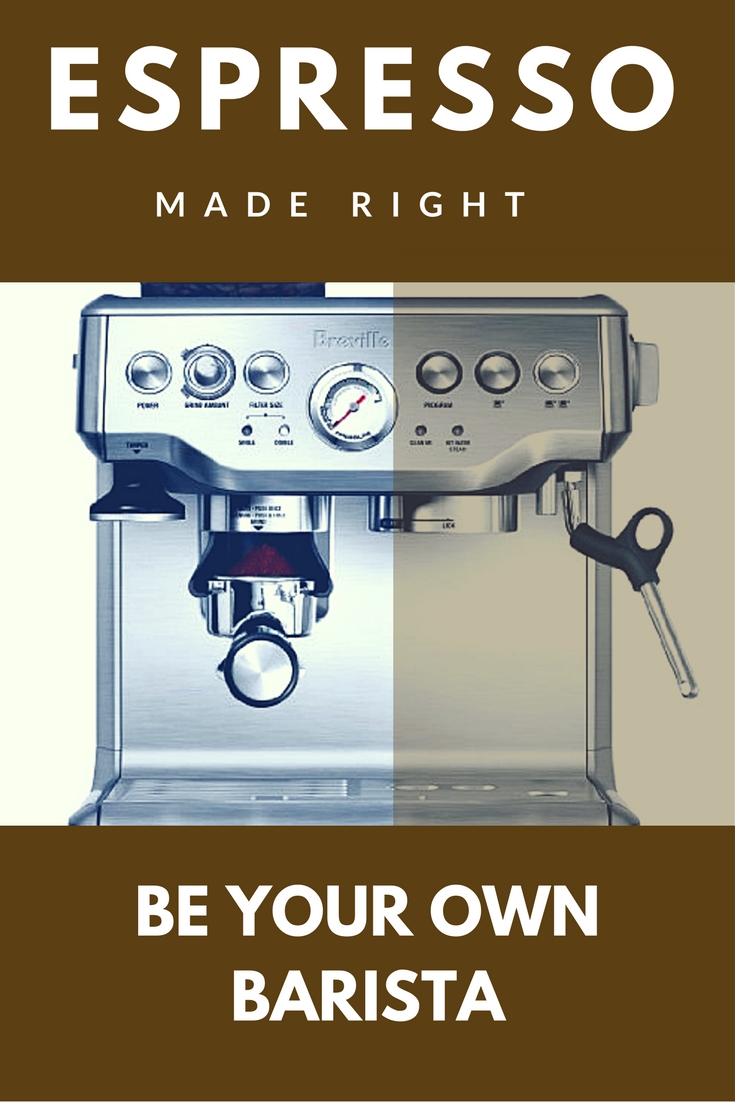 There Are Lots of Extra Features for Fans of Espresso
Ships with a 15 Bar made in Italy Thermoblock Pump, your choice or manual or programmable settings, a sealed bean hopper with 8oz capacity, an integrated conical burr grinder, and a removable 67oz water tank with water filtration system.  This heavy-duty Machine and Grinder is perfect for making a full array of latte, cappuccino, espresso, and coffee drinks.
One of the strongest pros of all is that you won't have to visit your local coffee shop again!  Save cash on all the fancy coffee drinks you usually buy on the road.  Keep in mind; we based our review on our love of these drinks. Only but this as a gift for someone who loves espressos.
Cons:
There's still going to be learning curve.  It won't take more than reading up on all the instructions before starting.  You will have to make things a few times before you get fast.  Can be a bit messy and there will be some splashing so expect to clean up a bit. Once you get used to it making drinks will be a breeze. The price of this machine makes it a gift for special people and important occasions!
Conclusion:
The Breville BES870XL Barista Express Espresso Machine stands out from the crowd.  Even for hardcore espresso addicts, this unit will do the job.  For those individuals who are brand new to the game, they'll need to do some learning.  After you've successfully mastered this machine, you can call yourself Barista. This beautifully designed unit will spruce up any kitchen.  Impress your friends with your serious Barista skills.
Click here to order or to read more reviews.